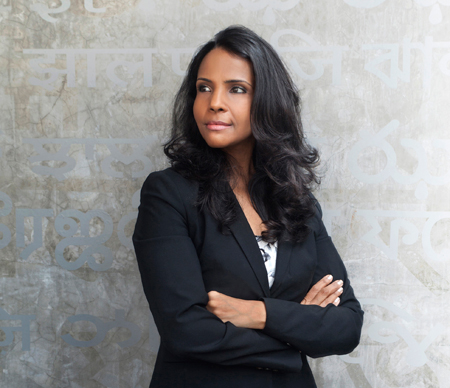 Sarika Bajoria
Founding Principal, Design Director
Sarika Bajoria is an award winning architectural designer and the Founding Principal and Design Director of Sarika Bajoria Unlimited, an international architecture, urbanism, interiors and branding practice based in New York City. She is a visionary, agile and strategic leader who creates transformative and innovative user experiences. She is passionate about using design as a medium to deeply engage and connect people and communities experientially, emotionally and socially. 
She has over fifteen years of experience in all phases of design, execution and management for global commercial, residential, hospitality, retail, institutional and non-profit projects. To create truly inspired and compassionate built environments, she has cultivated a mindful design process that integrates deeper awareness, intention and empathy, and that synthesizes her extensive design and technical expertise with over eight years of study and practice as a meditation student and teacher. This unique approach helps her to creatively address design challenges with clarity, focus and sense of possibility.
Born and raised in Calcutta, by the age of fifteen she dreamed of becoming an architect. At eighteen, she left home to study in the United States. Her ensuing journey into uncharted territories gave her the confidence to approach challenges with imagination and possibility. She continues this journey by pushing the boundaries of design through active imagination to create dynamic, meaningful and transformative spaces. Her unique undergraduate background in Physics, Math and Art gave her the foundation to explore the interconnections between these disciplines which she translated into her design process in Architecture during her graduate studies. Her projects therefore achieve a careful balance between science and art, performance and form to create meaningful settings.
Sarika won "Building Design + Construction 40 under 40 2014" title and publication cover feature and "Engineering News Record New York's Top 20 under 40 2013" title which celebrate the design excellence, leadership, career achievement and service to communities of leaders. She received "Professional Achievement Honor Award' by the Society of Indo-American Engineers and Architects in New York in 2015. She was awarded Permanent Residency status in the United States based on demonstrating "extraordinary ability" in the field of Architecture and Design. Her work has been published in leading international design publications including Architectural Record, World Architecture News, Engineering News Record, Building Design + Construction, Perspectivas de arquitectura y diseno. She has also been featured in New York Biz List, The Real Deal Movers and Shakers, New York Real Estate JournaL.
Prior to establishing her practice, Sarika worked for many years in design leadership roles at many New York firms, notably Skidmore Owings & Merrill in New York as a senior designer for landmark projects in India, New York and the Middle East. Sarika received her Master of Architecture degree from the University of Pennsylvania and also studied at the Architectural Association in London, Syracuse University in Florence and Paris American Academy. She graduated magna cum laude from Luther College in Iowa, with a Bachelor of Arts with triple majors in Physics, Mathematics and Art. She has taught as a lecturer and served as invited jury at University of Pennsylvania, Cooper Hewitt National Design Museum, Columbia University, School of Visual Arts and City College in New York. She co-founded the  Architecture for Humanity New York Chapter and served as the Founding Director for many years. She proactively contributes her time to nonprofit and humanitarian design projects.
Sarika has been training as a Buddhist meditation teacher for over eight years at the Kadampa Meditation Center NYC where she teaches weekly classes and engages in meditation retreats internationally. Her practice informs and enhances all aspects of her work as an architect, designer and artist.